December 29, 2015, was a milestone in the life of the Diocese as all gathered with the Bishop, Most Rev. Dr Donatus Ogun as he ordained six priests for the diocese. By divine providence also, this ordination happened to be his first Priestly Ordination of the diocese since his Episcopal Ordination as Bishop of Uromi.
The Ordination ceremonies took place at the Cathedral Church of St Anthony, Uromi. The church was packed full even before the Mass began with Priests and Religious from within and outside the diocese, family members of the ordinands, friends and well-wishers.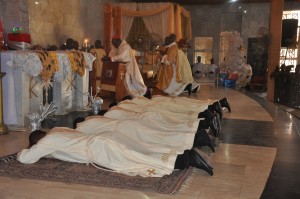 In his homily, Bishop Ogun encouraged the congregation to always put their priests, especially the ordinands in the hands of God through prayers, so that God may preserve them in His vineyard. The reason for this, he said, is the fact that like every other human being, "the priest is equally beset with weakness". He drew his scriptural text from the letter to the Hebrews 5:1-4.
To the ordinands, he admonished to be faithful in their ministry and live out the gospel that they preach and always to pray for those they have been ordained to serve.
A high point of the event was the thanksgiving procession of the newly ordained.
Reported by Isidore Omondeagbon