Uromi Justice Development Peace and Caritas Initiatives (Uromi JDPCI) through one of her projects tagged "Sustainable Mechanism For Improving Livelihood And Household Empowerment (SMILE Project)" presented start-up kits to nine (9) vulnerable adolescent beneficiaries within various communities in Esan North East Local Government Area. These beneficiaries who have successfully completed their training in various skills of interest were provided items that would aid them in better empowerment and sustainable livelihood support.
This great event which took place on the 14th day of June, 2017 at the palace of the Ojuromi of Uromi kingdom was graced by notable stakeholders in the project communities. These stakeholders include: His Royal Majesty, the Ojuromi of Uromi who was ably represented by Chief Oza, the Head of Service (HOS) of Esan North East Local Government Area (ENELGA) represented by Comrade Destiny, Good Governance Civic Group Supervisors, Community Quality Improvement Team Chairmen (CQIT) in seven (7) communities within Uromi, Beneficiaries, Trainers, Beneficiaries' parent/guardian, Community volunteers, SMILE project team and the Executive Director of Uromi JDPCI.
On this event making ceremony, the Executive Director of Uromi JDPCI Very Rev. Fr. Fidelis Arhedo expressed his gratitude to God for making his dream of creating an alternative to trafficking through presentation of empowerment kits. He once again emphasized that human trafficking should not be considered an alternative or easiest way out of poverty and greed. He advised them to make good use of the items received and pleaded that they do not sell whatever they are given. Chief Oza thanked and appreciated the Director and project
team of Uromi JDPCI for this laudable project and also appreciated the beneficiaries for their successful training in various skills they were enrolled in, for their dedication to duty and for the upliftment of their lives, families and communities. He advised selected beneficiaries to show good example in their learnt skills and aspire to grow better and become better role models to others. Other stakeholders present also thanked the sponsor (CRS) and the implementer (Uromi JDPCI) of the SMILE project. The items were thereafter blessed by Very Rev. Fr. Fidelis Arhedo and presented to the deserving eleven (11) beneficiaries: One (1) tailor, three (3) hair dressers, two (2) in Cake and Decoration, one (1) Tiler, one (1) Mechanic and one (1) Automobile and two (2) Caterers who received their some days later.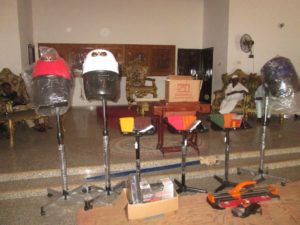 Community Improvement team representatives, trainers and beneficiaries with smiles on their faces (after the presentation of items) took turns to thank the Executive Director and his team for the benefits received promising to be good ambassadors.